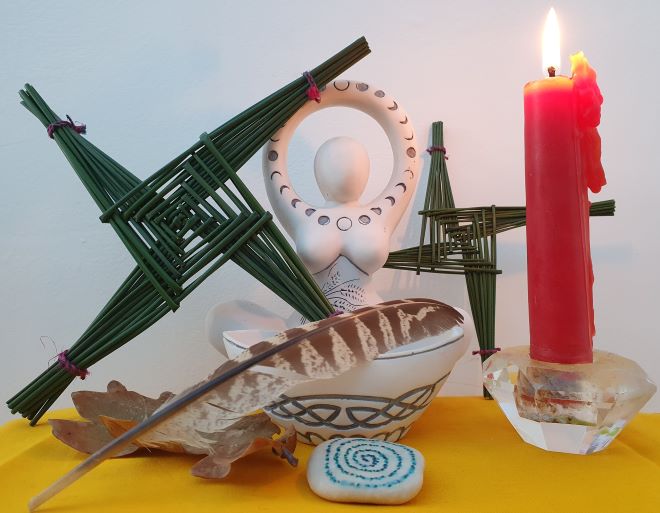 How are you doing?  We are at the end of January already, it will be spring soon, not that I want to wish my life away.  Time is a funny phenomenon, we are ruled by these ticking things and we are required to do things at certain times.  I have always struggled with having to be places at certain times and when I allow my body to work by its own clock my mind and body are more harmonious.  I think the cycles in nature are more important & relevant than that of a ticking clock, I really struggle to get up in the dark, and want to sleep more in the winter yet in the summer I have so much energy and am active for longer hours.
On the 1st of February we celebrate Imbolc, a holy day that marks the reawakening of the Earth, snowdrops, winter aconite & crocuses, tender & fresh emerge from the dark earth. Seeds/ideas that you planted in the dark are now slowly beginning to crack open their outer protected shells & start to grow, nurture them well.  The Goddess Brigid is honoured at this time, the keeper of the sacred fire, the spark of life & protector of our living giving waters from sacred springs & holy wells. It is the union of the fire & water that bring life, growth & manifestation of our dreamseeds. Express your visions & dreams through poetry, song & art.
Make time for meditation, dreaming & being creative through crafts, writing, drawing & painting, it is a time for healing & reclaiming what has been forgotten.  Clear & tidy your home & garden, plant new trees & bushes, sow herbs seeds indoors so you have plants to plant outdoors later.
Every Imbolc I make a Brigid's Cross by weaving coloured wool or material around 2 sticks made into a cross & decorate with other natural things I  find on my walks like feathers.  These crosses represent the all seeing eye of Brigid to watch over us in the coming year.  Hang them at the entrance of your home, the ones from last year are burnt to release the old year and make way for the new. This year I am also making a traditional Brigid's cross from reeds I collected from the bank of the river Wye.
To mark the life-giving feminine power of Imbolc and St Brigid's Day, as well as the awakening of the earth after the reflective darkness of winter Simon Lockett will hold a Hedgerow Communion at Bredwardine on Thursday February 2nd. This will include yoga with Bridget Rowan and a very short, gentle walk, [1 mile] to the fishponds and ancient settlement on the banks of the River Wye and then back to St Andrews Church, finishing at 8.45am approx.
Meet 7.30am outside St Andrews Church, Bredwardine, Herefordshire
For those who can stay behind we will have coffee and croissants in the Church. Please bring a small [red] strip of cloth or rag to catch the morning dew.
Love, hugs and bountiful Oms
Bridget
xxxxx