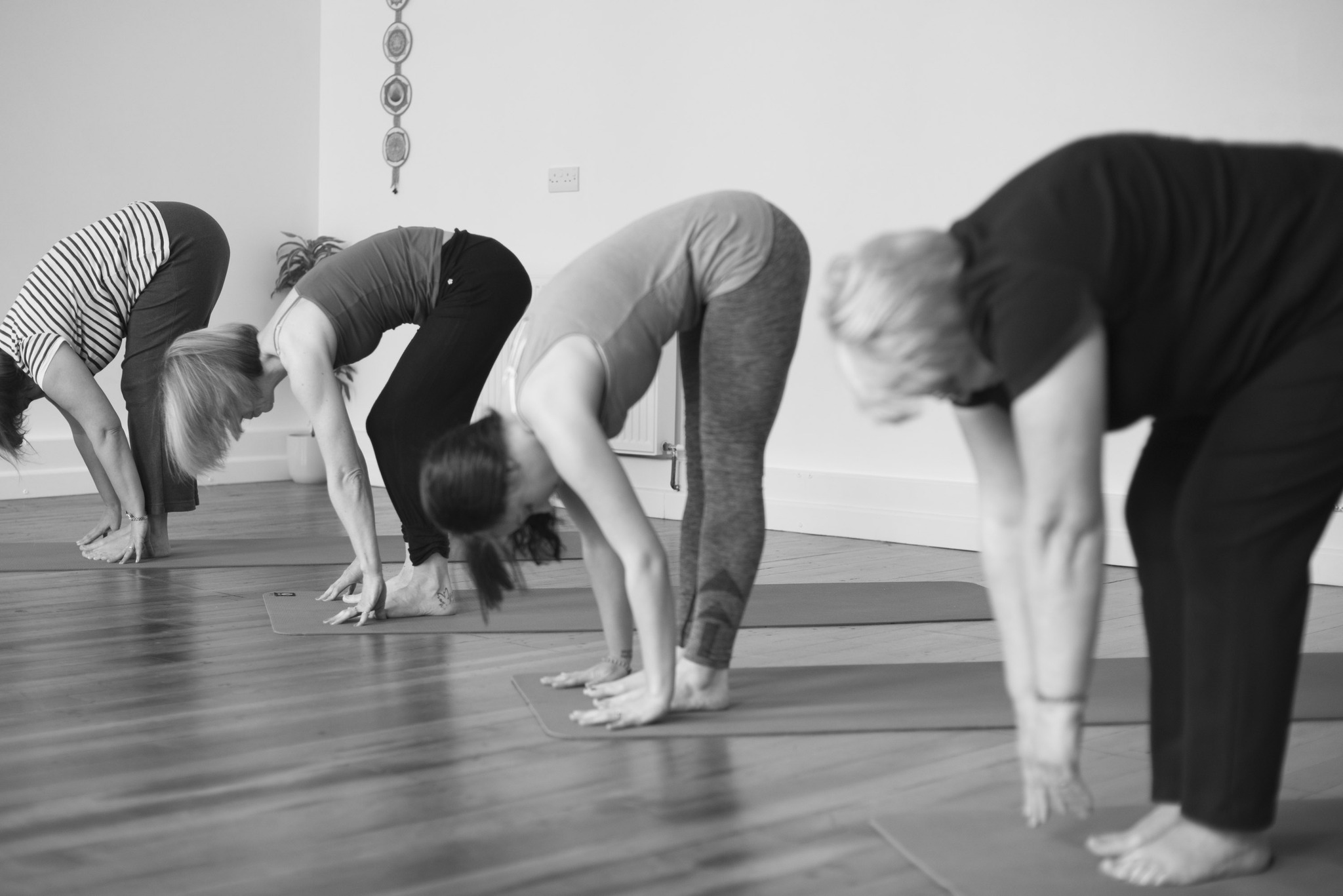 Booking Essential for all classes please Call/Text 07904111334
Hatha Yoga
Ability Level: Mixed Abilities, Beginners, Intermediate, Advanced
Zoom Class
Monday – 7.40pm – 9.10pm 
Zoom Class
Tuesday – 10.00am – 11.30am 
Peterchurch Class
Wednesday
10.30am – 12.00pm Starts 6th Sept
6.30pm – 8.00pm
Peterchurch Village Hall
8-9 Closure Place, HR2 0RS (Parking available)
Also available for 1-2-1 or small group sessions, please get in contact

Yoga is a journey of getting to know yourself, it starts as a weekly class and then infuses into our daily life and helps us navigate the ups and downs of life.
The ingredients needed for a yoga practise are;
Our body – where it is right now, maybe achy or stiff, this is our starting point to move, stretch and strengthen.
Our mind – cultivating our awareness of how we move our body and our thoughts and reactions.
Our breath – our gauge on how we are emotionally and physically and is a tool to calm and centre us and to focus on.
An openness to moving beyond our comfort zone
We mix these all up together and get a deeper understanding of ourselves and tools to improve our health and wellbeing on all levels.
In Bridget's classes you will experience Asana – functional body movements, Pranayama – breathing practices and Yoga Nidra – a delicious deep relaxation practice all infused with her love of yogic philosophy, nature and poetry.
You don't have to wear any special clothing, your favorite comfy stretchy clothes are perfect. Please bring your own mat (if you have one) a cushion and blanket.
EveryBODY is welcome
Cost: please press here
No regular classes at present . Please get in touch if you would like to start a class or like to experience one session for your community or group
Yoga For the Knackered
Do you feel knackered, physically, emotionally or mentally?
Does your body feel stiff and sore?
Do you want to change this?
This class is for you, we will be exploring gentle accessible movements to keep your joints and muscles moving, strong and functional, so you can enjoy the things you love to do more. Most of the class will be done sitting in a chair, with some standing practices.   I encourage you to listen to how you are in that moment and to treat yourself with the utmost kindness, love and respect and only do what is appropriate to you.
I will be sharing easy breathing techniques to calm and energise that you can practise in your daily life and relaxation practises that help manage stress & improve wellbeing.
Please wear comfortable clothes that don't restrict your movement.
EveryBODY is welcome
Cost: please press here
Moon Hatha Yoga
Ability Level: Mixed Abilities, Beginners, Intermediate, Advanced
Zoom Class
Monday – 6.00pm – 7.30pm 
All of nature including us are cyclic, the moon's cycle is approximately 28 days, she magically births as a silver crescent  hanging in our skies, waxing into her full glowing brightness and then quietly waning back into invisibility. The Moon provides the emotional backdrop of our lives and as she moves through the signs of the zodiac every few days this governs the emotional tone of the day.
In this class we will be tuning into the moons cycle to help us understand our moods, energy fluxes & emotions and to bring balance and wellbeing into our lives. Bridget will guide you through practices that are in harmony with the phase of the moon, when the moon wanes the classes will be gentle yet powerful and encourage us to be more internal, in the waxing phase more action is required and we will do practices that are expansive and extroverting.
The class includes Asana (functional body movements), Pranayama (breath techniques) and Yoga Nidra ( a delicious deep relaxation) with the added benefit of being infused with natures guidance, poetry & insights.
Cost: please press here