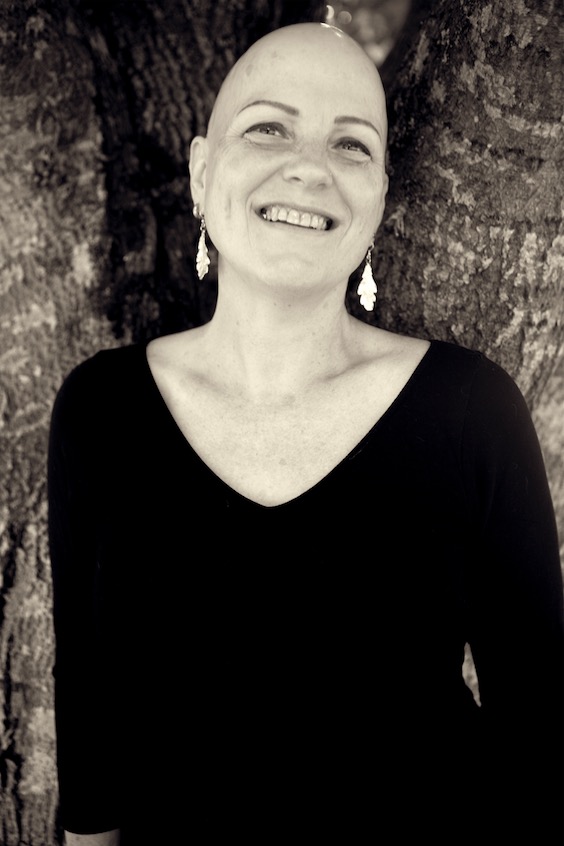 Hello I'm Bridget, I am a Yoga teacher and have been sharing my love of Yoga since 2002.  Yoga has been my constant companion for over 30 years, helping me meet my challenges with grace and get to know myself to grow and blossom.
I began my yoga journey with the very physical Iyengar yoga but it wasn't until travelling in India and meeting wise and knowledgeable teachers that I was introduced to this ancient philosophy properly.  I moved deeper into my practise and began to live Yoga.  I returned to the UK after 15 nomadic years and settled in Leeds in 2000.
My love and respect of Yoga encouraged me to share this art and philosophy and I began my journey to teach yoga.  I trained in 2002 in an Ashram environment by the Sivananda tradition and began teaching in gyms, community projects and local classes.  I continued my training with various yoga teachers and was drawn to the teaching and techniques of Satyananda Yoga.  One of the main practices of Satyananda yoga is Yoga Nidra and found it so beneficial and powerful I wanted to be able to share it and attended a 6 month training course to teach it in 2006 and later became a qualified Satyananda teacher in 2011.  I continued to train with renowned Satyananda teachers covering Pranayama and Meditation as well as regularly attending Mandala Ashram in Wales for inspiring and insightful courses.   I was trained by Uma Dinsmore-Tuli in 2008 to teach yoga for pregnancy and post natal and taught a specific yoga for pregnancy class for 6 years.
I am fascinated by the body, how and why it moves and doesn't move and have deepened my knowledge by attending anatomy courses for yoga teachers with Gary Carter and Lesley Dike and really enjoyed learning about respecting the body's intelligence with my yoga teaching. 
The yoga I teach is a combination of all my experiences, it is firmly rooted in the philosophy of yoga but I also see nature as my ultimate guide and teacher. My aim as a teacher is to share my knowledge so as to empower others to know thyself and fulfil their highest potential. I continue to learn about all aspects of  yoga as I strongly believe that I learn to teach and teach to learn.
Om Yoga Works – Yoga Studio in Leeds.  Angela Ripley and I started this gorgeous studio in 2012 and ran it successfully and happily together for 10 years. We also founded the Om Yoga Works Foundation, helping to make Yoga accessible to all in our community.  Angela continues to run both the studio and foundation which continues to blossom and grow. 
I cared for my husband Steve until his death in 2014 and also supported my parents at the end of my fathers life in 2018.  I learnt a lot about death and dying and feel drawn to talking about this subject as I feel it is something we avoid unless it stares us in the face.  I believe if we make friends with death then we will live a fuller life.  I have completed a foundation course to become an End of Life Doula by Living Well, Dying Well.  I can support people in planning for their death, everyone should have an Advance Plan, whatever your age or situation, as well as being a companion to those at the end of their life, making sure that this chapter is as peaceful and natural as possible and that their wishes are fulfilled.  
I am a music lover and love to dance, I feel that sound is so powerful and intrinsic to my wellbeing. I have been on a journey with sound since 2003 , I found my voice with the help of amazing and inspiring singing teachers, especially Lily Moharrer based in Leeds. I have been singing and leading Kirtans (devotional chanting) for the last 9 years and find these so powerful and uplifting. My love of singing bowls, gongs and percussion instrument has been percolating and I finally joined Craig Eddington to deepen my knowledge and to qualify as a Sound Therapist in 2021.
2021 was been a big year of change for me, following a dream I have had for a long time, together with my friends Hattie and Li we bought some woodland in Bredwardine, Herefordshire.  I felt sad to leave Leeds my home and community for 21 years but the call to be near the woodland was too big to ignore.  We have a lot of work and learning to restore and manage the woodland but my dream is to offer rituals and healing within nature's embrace.  I landed in a gorgeous village called Peterchurch in the Golden Valley, I have received such a warm welcome from this lovely community and I teach Yoga and hold Soundscape sessions in the village.
I am an Aromatherapist since 1997 and I make pure plant based and natural skincare to order. I trained as a Reflexologist in 1998 in Australia and offer treatments in clients homes.
I live a blessed life with the love and blessing of my fabulous family and friends and doing all the things I am passionate about.